In Part I, the focus was on a monthly program testimonial for year-round messaging on WHAT you accomplish and WHY (see Ideas to Boost Funding for Your Programs – PART I ). In Part II, let's think about the visual way we represent our funding needs at an annual meeting and/or in our annual pledge drives.
Do you focus on salaries and your facilities as a percentage of your budget in a spreadsheet? Congregations need to keep a detailed list of expenses, but when it's time to gather pledges, a line-item budget is not a compelling way to have your members and friends financially support your programs.
Let's focus on the bigger picture.
Why do you have professional staff and, for many congregations, your own building? To help lead or enhance your programs and have a place to house those programs.
When you are informing the congregation about your expenses, you can present that information in a way that is both transparent AND program-focused. The latter component, a representation of a program-based budget, is important in order to show WHY you have these expenses.
I have seen many a well-intentioned stewardship team use a pie chart with the following categories: Salaries/Staff; Building/Utilities; UUA/Regional dues; Share-the-Plate; and Miscellaneous. All those things are technically accurate, however, congregations don't exist to pay salaries and mortgages – they exist for the programs that happen in your building and that are facilitated by the minister(s) and staff.
To gather the information for a program-based budget, ask your minister(s) and staff to give you percentages of their time spent on the following programs:
Worship & Celebration
Lifelong Spiritual Growth
Enriching Our Shared Lives
Outreach/Social Justice
Supporting Our UU Movement
You an also assign your building expenses to each of these categories. Here's an example: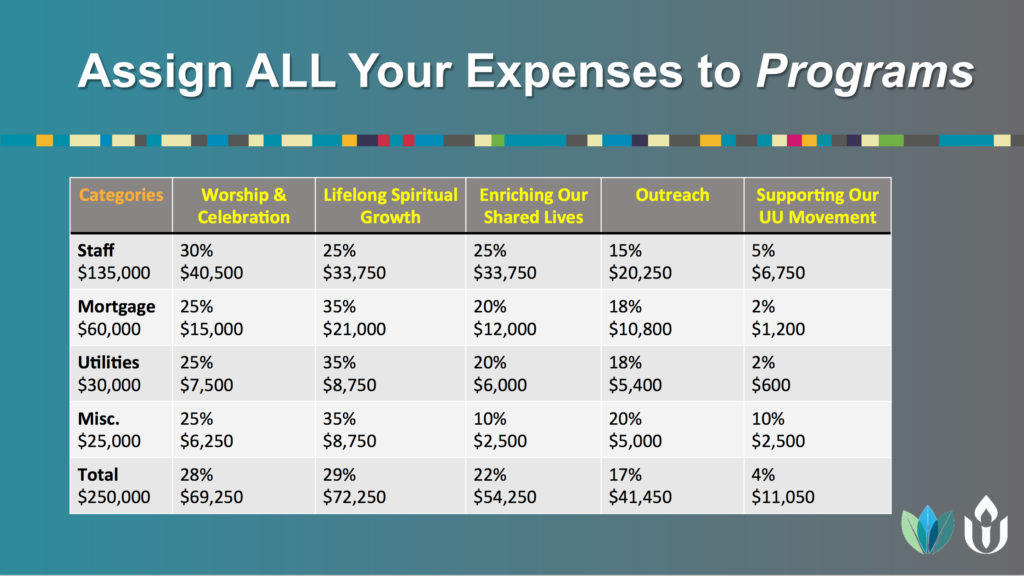 This table still gives detail, for those who might want it, but more importantly it provides the basis  for a pie chart that shows your expenses in terms of programs and your mission.
As always, one size does not fit all in terms of the percentage allocation. Every congregation is different, but all congregations can show their expenses as they relate to programs and mission. Help everyone visualize how their giving translates into what you accomplish together.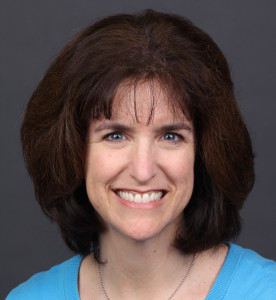 Kay Crider is a stewardship consultant with the Stewardship for Us team, supporting the UUA. Kay can be reached at kay@stewardshipforus.com, via UUA Congregational Life, (http://www.uua.org/finance/fundraising) or via the Pacific Western Region staff.